Board of Directors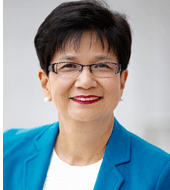 Belinda Tang
Belinda Tang brings strategic industry expertise in Information Technology and Professional Services and over 25 years of executive experience in Finance People, and Culture.  With an international career with the IBM Corporation, based in Canada, the United States, and Asia, she is skilled in leading complex, large-scale organization change often during times of transition and disruption.  Most recently IBM's Vice President, Leadership and Global Chief Diversity Officer, and Head of Human Resources for IBM's Consulting business in both developed and emerging markets, she led talent in Consulting with a focus on client centricity, industry leadership, and diversity for a new era.  She was on the IBM Global Human Resources Operating Team who developed HR/talent strategy and policy for over 170 countries.  Prior to moving overseas, Belinda also held executive positions as a General Manager, and Treasurer, IBM Canada.
A graduate from the Rotman School of Management, University of Toronto, Belinda holds a Master of Human Resources Management from York University.  Belinda is a credentialed Executive and Organization Coach from the Graduate Program in Coaching, Columbia University in New York.  She has completed executive programs on Advanced Strategy, Managing Strategic Challenges in Human Capital, and Leading Transformative Change at the Harvard Business School.
Belinda has over 20 years of board governance experience and is currently Vice Chair, Seneca College Board of Governors, Chairs the Academic Planning and Student Affairs Committee, and is an Ontario Lieutenant Governor In Council (LGIC) appointed Board Member.  Belinda also serves on the Board of Habitat for Humanity for the Greater Toronto Area (GTA), and was past Chair, Strategic Planning and Nominating Committees for the Markham Stouffville Hospital Board, where she served for 9 years.
Belinda joined the Yee Hong Centre for Geriatric Care Board in June 2021 and serves as Vice Chair of the Human Resources Committee.