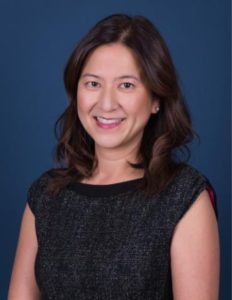 Monthly messages from Dr. San Ng , Chief Executive Officer of Yee Hong Centre for Geriatric Care.
San was appointed CEO in June 2021 after serving as interim CEO since November 2020. Prior to that, she sat on the Centre's Board of Directors since 2012, and served as Chair of the Board from June 2019 to November 2020.
Thu Dec 23, 2021, 11:59 am
We're celebrating cautiously this year with Christmas decorations, Chinese Winter Solstice treats, themed music and activities for all our residents. Everyone is looking forward to our festive menu, and we're finding ways to sing and be active a safe distance apart. After two years of pandemic disruptions we're determined to foster connection, hope and fun with our seniors.
We're also taking time to remember. Congratulations to Yee Hong Peter K Kwok Hospice for a successful "Love & Light" celebration earlier this month. Staff, donors and family members gathered with warm hearts on a cold night to mark our first year of hospice care. We shared music and memories with grateful families, and decorated the hospice Christmas tree to commemorate life. We thank all our donors, well wishers and supporters, and your donations are always welcome.
Christmas is also a time to visit and share with loved ones. Under normal circumstances our Centres buzz with activity during the holidays but Ontario is changing the rules to reduce risk from the Omicron variant.
Everyone entering an Ontario long-term care home must be vaccinated against COVID-19.
You may not visit if you are ill or have symptoms, even if your symptoms are mild.
A negative rapid test is required for everyone entering our buildings. This requirement applies to everyone, regardless of your vaccination status. Rapid tests are valid for 48 hours.
Children between the ages of 1 and 5 should be left at home if you visit. Everyone including children older than 5 should be fully vaccinated to enter the building.
A complete description of visitor restrictions is on our website. We will continue to share new directives from the provincial government as they occur.
Please stay home if you have symptoms of COVID-19 or exposure to a known case, and get the booster dose of vaccine if you have not already. During your visit clean your hands often, and if you brought food for a loved one, don't share with others in the room. If you're considering time away from Yee Hong with a resident, ask us for safety tips. These are prudent and cautious steps you can take to show your kindness to our entire community of seniors.
I wish everyone a safe and happy holiday, and I thank you for all the support you have shown the Yee Hong team this year. You've seen we are ready to meet the challenge COVID-19 presents, including this next wave of the pandemic. Thank you for celebrating the season with Yee Hong.
Mon Nov 22, 2021, 1:38 pm
Yee Hong has been celebrating our 27th Anniversary with staff. Last month we held appreciation ceremonies in small groups and virtually, and rewarded Yee Hong teams for dedication and compassion during the pandemic. Dozens of employees received special recognition for a decade (or more!) of continuous service.
We continue our cautious and evidence-based response to the pandemic, and we're grateful for safe and effective COVID-19 vaccines, as well as the safe practices of all of our staff, workers, caregivers and visitors. All eligible and consenting long-term care residents recently had their booster doses, and we have successfully implemented our policy of mandatory vaccination for all staff.
Our staff continue to embody the Yee Hong spirit since the McNicoll Centre opening in 1994. We've grown over the years into an extended family, adding more homes, a hospice, and many other programs/services to provide a continuum of culturally appropriate seniors services and care. The global pandemic tested us and we emerged stronger. We care, We collaborate, and We commit – these values empower seniors, caregivers and families to live their lives to the fullest.
I'll have more to say soon about steps we're taking to focus our efforts, make a stronger impact, and ensure our future sustainability. I'll also introduce a new Yee Hong logo early next year. I gave employees a sneak peak of the new logo during the Anniversary celebrations; did you catch a glimpse in one of our lobbies?
Our new logo depicts energy, action and diversity as Yee Hong embarks on the next leg of our journey. Our commitment to providing excellent and culturally-appropriate programs and services and sharing our knowledge and expertise with others continues. Innovating is Our Tradition!
Thu Sep 30, 2021, 2:04 pm
As you know, safety and well-being are the highest priorities at Yee Hong. COVID-19 vaccination is now mandatory in Yee Hong workplaces for employees, student learners and volunteers.
We have been making every effort possible to encourage our staff to be vaccinated to protect our residents, families, visitors and fellow workers. We are educating our unvaccinated staff about how the vaccines work, their safety, and the benefits and risks of vaccination. It's time to reach for 100%.
A very small number of Yee Hong staff members remain unvaccinated, and their reasons to delay vaccination are very personal. We offer staff the necessary supports – flexible schedules, booking assistance, on-site clinics and reimbursement for costs – to make getting their vaccine as easy as possible.
Employees, student learners, and volunteers in our buildings must be fully vaccinated by October 30. Staff who do not meet the new policy requirements will be placed on an unpaid leave, and students, volunteers and agency/third-party contractors who do not meet the new policy requirements will not be able to continue their placement or contract.
Some people who delayed vaccination are facing a hard choice, but it means peace of mind for the whole community. Each of us is making a personal commitment to Yee Hong's safety culture to protect our vulnerable seniors.
Our mandatory policy is the last step in our journey to fully vaccinated workplaces. It shows Yee Hong's leadership, and it brings the community together to protect one another.