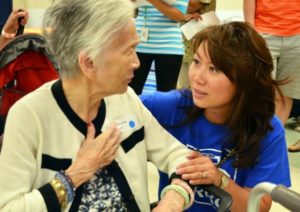 Friendly Visiting is a support service where a volunteer visits or calls an isolated or frail adult regularly on a one-to-one basis. It aims to provide the client with social support and contact with the community and ensure his or her well-being, health and safety.
Eligibility
Isolated seniors 55 years and older
Those living alone who are at risk but choose to stay in the community
Those who need assistance in overcoming isolation due to functional limitations
Those without adequate social support
Those with emotional problems, such as depression, who are socially withdrawn from community activities
Those with physical or mental health issues who require assistance and regular monitoring and supervision
The service is available to eligible seniors residing in Scarborough, Markham, North York and Richmond Hill.
Application
Referrals are welcome from medical professionals, social workers, family members, friends or clients themselves.
Contact Us
Yee Hong Centre – Scarborough McNicoll
2311 McNicoll Ave., Scarborough
Tel: (416) 412-4571 ext. 2608