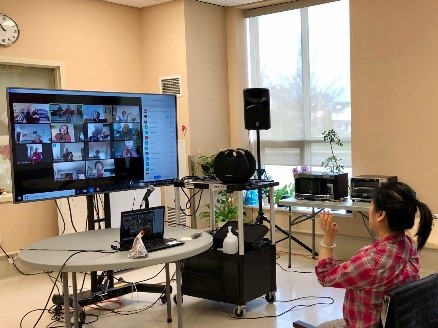 Online Virtual Interaction
In mid-March, most of our community programs at Yee Hong including Adult Day Program were suspended during the pandemic. Since then, the Markham ADP team has been deployed to Yee Hong Markham long-term care home taking on new duties to help our residents.
On top of deployment duties in long-term care, the Markham ADP team continues to support ADP members through wellness calls in the first few weeks. Beginning in late March the team developed online virtual programs and activities to help ADP members at home stay connected and active.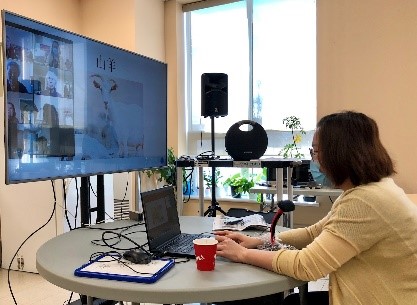 Online Cognitive Activities
"Thanks very much for the good idea of Zoom Meeting. We enjoyed the meeting heartily." – ADP client
Currently the Virtual ADP program runs 6 days per week (Mon–Sat), and the number of participants has increased to more than 20 members per session. Nearly 40% of all Markham ADP members have been attending virtual ADP activities regularly.
Based on the observations, peer evaluations and feedback from caregivers and ADP participants, Markham ADP team has been working to develop a larger variety of virtual activities including online virtual interactions, group exercise, cognitive activities, a music and creativity session, and more.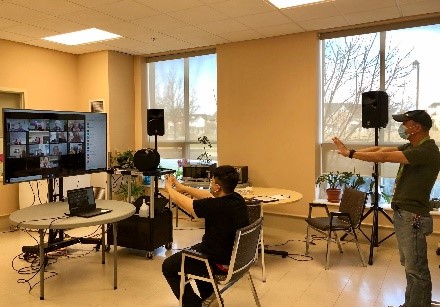 Virtual Exercise Session
"L. was very happy to see you all and had regained the energy to do exercises." – Caregiver
The team has also been improving the quality of online connections and interactions to better help members with diverse needs and cultural backgrounds. Recently, the team added a Virtual Chat session helping members communicate with their ADP friends, set Individual and/or small group Virtual Time with members with special needs, and scheduled a Mandarin Virtual Group session on Saturday morning, which are well liked by caregivers and ADP members.