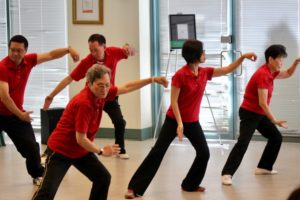 The Active Senior Program provides a broad range of social, recreational and educational activities for seniors to enhance their physical, emotional and mental well-being and develop an active and healthy lifestyle. It is an integral part of Yee Hong's commitment to providing a continuum of care that meets the changing needs of seniors living in the community.
A subgroup of the Active Senior Program, the Macrobian Club is a self-programming group for seniors under the sponsorship of Yee Hong. Established in 1991, the club organizes activities of various natures for members and operates a senior drop-in centre for members to meet friends, enjoy leisure pursuits and read newspapers and periodicals. An executive committee is elected bi-annually to manage the affairs of the club.
Current Programs
Scarborough/York Region programs – Currently suspended
Eligibility
Seniors 55 years and older
Activities are also open to those under 55 years of age
Activities
Creative arts and interest cultivation
Exercise and fitness
Social networking
Education and learning
Fees
Fees vary depending on the activity. Membership is available for those interested in joining the Macrobian Club. Please contact individual centres for more information.
Application
Referrals are welcome from medical professionals, social workers, family members, friends or clients themselves.
Contact Us
Scarborough
Yee Hong Centre – Scarborough McNicoll and Yee Hong Macrobian Club
2311 McNicoll Ave., Scarborough
Tel: (416) 412-4571 ext. 2637
Mississauga
Yee Hong Centre – Mississauga
5510 Mavis Rd., Mississauga
Tel: (416) 412-4571 ext. 4610