Yee Hong 9-Hour Online Singing Marathon
Performer registration is FULL!
Due to overwhelming demand, we cannot accept any new registrations!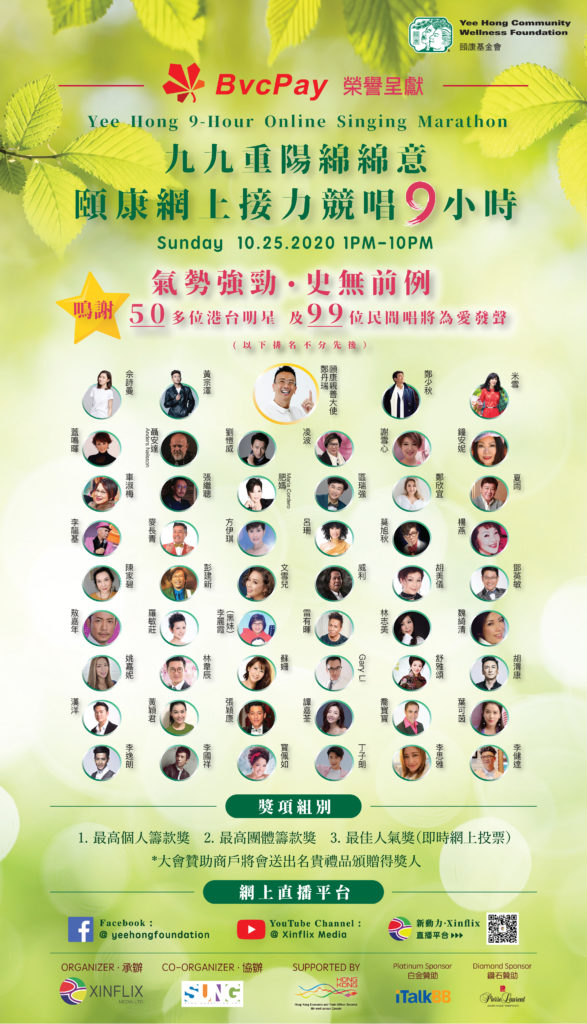 Yee Hong 9-Hour Online Singing Marathon
Sunday October 25, 2020
Youtube, Facebook or Xinflix
Performer registration is FULL!
Donation Hotline: 416-321-0777
Registration/Enquiries: 647-265-9466
Introduction
The pandemic may have disrupted our lives, but it has not impacted our love for our seniors. In support of our frontline workers who care for our seniors, keeping them safe and healthy, and to fundraise for our expansion plan to build three new long-term care centres in the near future, we are hosting the Yee Hong 9-hour Online Singing Marathon on October 25, 2020.
The date marks this year's Double Ninth Festival (also known as Chong Yang Festival), a special occasion to show our love and care to the elderly and pay respect to our ancestors. Even during these challenging times, we can celebrate our deepest connections through music from our hearts.
While the Online Singing Marathon will feature mostly local singers and musicians, celebrities from mainland China, Hong Kong and Taiwan have also been invited to show their support. Various individual and team awards will be presented during the show.
Participant Requirements
A minimum of $200 must be raised for each performance, whether individual or group. This amount can be raised by the performers themselves or with pledges from friends and supporters.
All performance videos for this show will be pre-filmed prior to the event date at the Xinflix auditorium (421 Bentley St. Unit 9, Markham, ON L3R 9T2). Xinflix will contact eligible performers to arrange the filming, after donations have been confirmed by Yee Hong.

Please note the following guidelines for donation:
Performers without sponsors, please donate online at www.yeehong.com/donate and include "Performance Registration" in the optional remarks.
Performers with sponsors supporting their performance, please fill in the Group Donation Form and email the completed form to foundation@yeehong.com.

Tax receipts for donations of $20 or more will be issued to each sponsor based on the submitted information.
Use multiple forms if there are more than 10 sponsors.

Supporters who are not sponsoring a performer and do not wish to perform themselves, please donate online at www.yeehong.com/donate.
Space is limited. Please make your donation today!