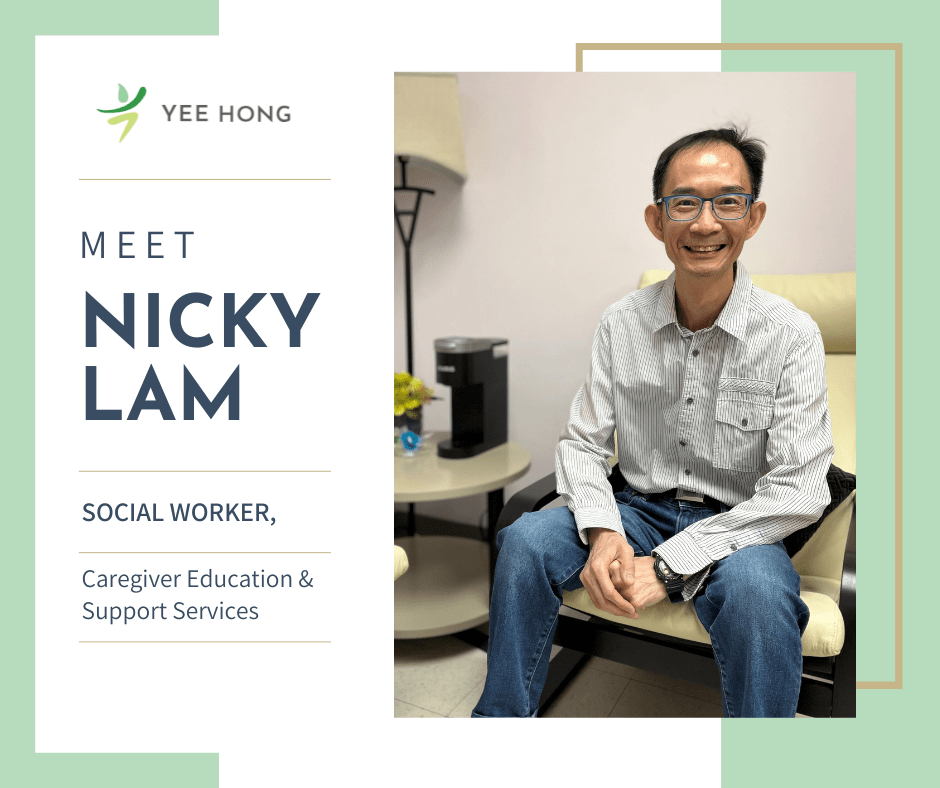 March is National Social Work Month, a time for us to recognize and celebrate social work professionals and their selfless contributions to our communities.
Yee Hong is fortunate to have many stellar social work professionals on our team. Our Social Workers provide a range of services to support the wellbeing of our residents, clients, family caregivers and community members.
We sat down with Nicky Lam, our Caregiver Education & Support Services Social Worker, to learn more about his work at Yee Hong.
Q: What do you do as a Social Worker at Yee Hong?
A: I primarily work with family caregivers and older adults living in the community. I provide a range of caregiver education and support services to help clients meet their needs. I also develop programs to help my clients reach their psychosocial goals through therapeutic activities, such as our MedEx Table Tennis for Dementia program. This is a fun program to help promote cognitive stimulation and overall wellness for community members with dementia and their caregivers through playing table tennis together.
Another large part of my work is establishing community linkages through outreach with other organizations and agencies so that I can facilitate effective referrals, partnerships and educational opportunities for my clients. I also provide supervision to students from local universities and Hong Kong who are pursuing the field of social work to help develop the next generation of social work professionals.
Q: Why did you want to become a Social Worker, and how long have you been in the field?
A: I've been practicing as a Social Worker for 22 years now. I've always had a passion for helping others, so I wanted to pursue a career where I could make a positive difference in someone else's life.
Q: What's the most challenging aspect of your job?
A: In recent years, I would say COIVD-19 has really impacted my work. Before the pandemic, majority of my interactions with clients were all in-person. After social distancing and other pandemic measures were introduced, we had to quickly shift to an online space. I had to find creative ways with limited resources to continue supporting my clients, many of whom are older adults.
Q: What's your favourite part about your job?
A: My favourite part about my job is the opportunities I have to gain new experiences. Anyone who thinks that Social Workers just sit in an office and listen to people talk all day is wrong. At Yee Hong, I have so many opportunities to interact with my community and develop new programs and initiatives for my clients. I also get to meet and form connections with so many people, and I learn something new from everyone I meet.
Thank you, Nicky for sharing your experiences with us, and for all that you do to support seniors and caregivers in our community!