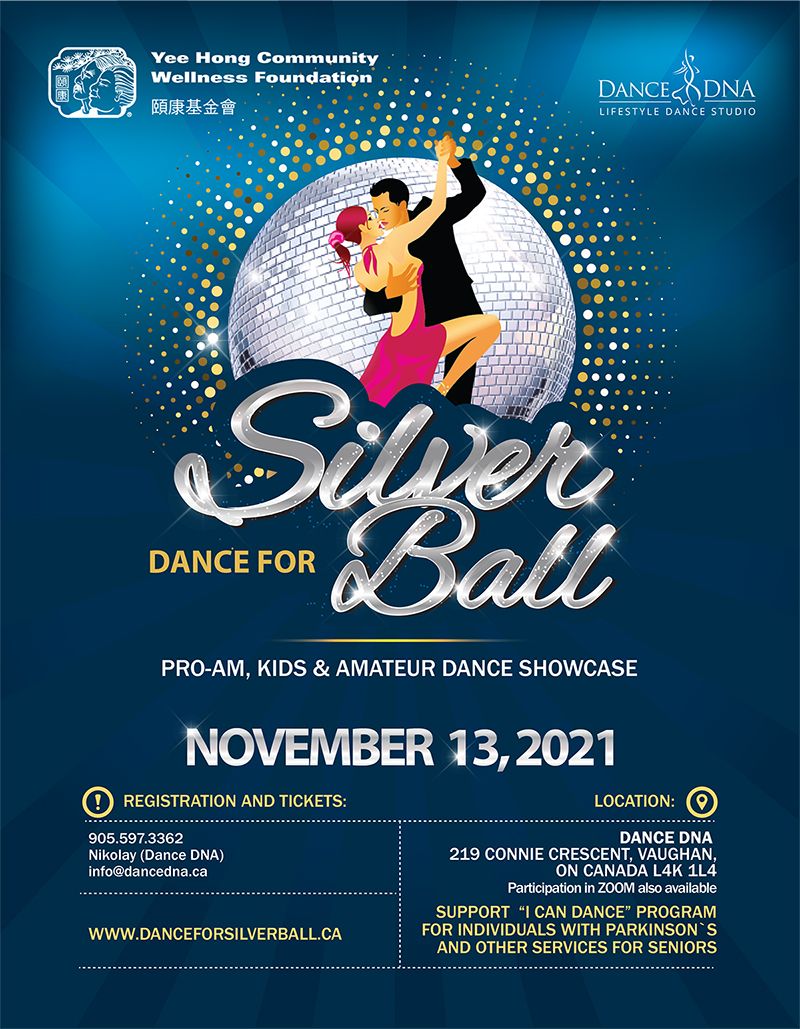 Silver Ball
November 13, 2021
In-studio showcase or online via Zoom
Introduction
Parkinson's disease is one of the most baffling and complex of all neurological disorders. The cause is unknown and there is no cure.
In 2017, Yee Hong Centre partnered with Dance DNA to develop the "I Can Dance" fitness program for individuals with Parkinson's disease or other Parkinson-like illness, so that they can experience the joy and benefits of dancing.
This pilot project demonstrated encouraging results, showing a positive impact on improving patients' motor movements and balance. It also provided a social support network, helping to reduce depression and build self-esteem.
"The most effective achievement of the Dance Program is to provide physical exercise, social communication, and by learning dancing, dancers feel happy… I surely have gained, in the last few months, the benefits of dancing," said a client.
This successful dance project has become an ongoing program since 2017. Silver Ball has been an annual fundraiser to showcase the "I Can Dance" program.
2021 Pro-Am, Kids & Amateur Dance Showcase
Unfortunately, due to the coronavirus pandemic, we are not able to hold the gala this year. But we have to continue providing support for those in need in the community.
We have persisted with the weekly dance program despite the pandemic by providing online dance classes. We cannot allow interruptions to the significant progress and momentum we have built for our Parkinson clients. It helps to keep everyone active physically and mentally that are needed during our new normal life in coping with the pandemic.
In the absence of an in-person gala, we are pleased to invite you to join us for on November 8 as we showcase our dance group. You will witness how the dancing program benefits Parkinson's patients both physically and mentally – most started with no dance background and had challenges with mobility, coordination and balancing. Our clients want to showcase how to live an active and happy life through dancing and you will see it through these dance performances.
The online show's link will be sent to those who have registered. The event is free of charge. Please join us in support of the "I Can Dance" program and our Parkinson clients.
For more information, please contact Nikolay Smodlev of Dance DNA at 905-597-3362 or info@dancedna.ca.
Please also consider making a donation to support this great cause (for Donation Purpose, please select 'Silver Ball') or call 416-321-0777.