National Seniors Day Dinner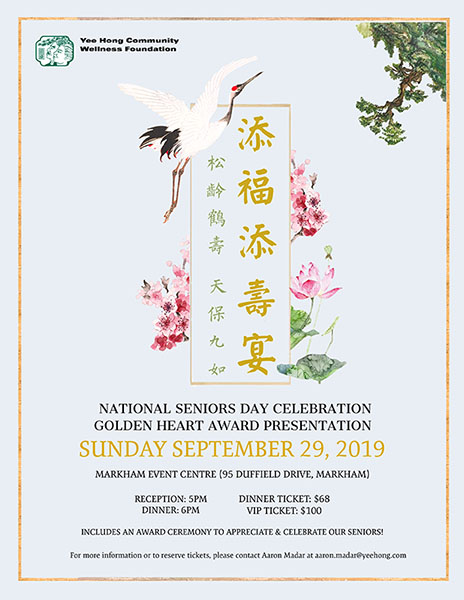 Sunday, September 29, 2019
Markham Event Centre
95 Duffield Drive
Markham, ON
Introduction
October 1 is National Seniors Day in Canada! Yee Hong is proud to celebrate this special day in honour of the seniors who have helped to build and strengthen our communities.
2019 Golden Heart Awards
Yee Hong will again present the Golden Heart Awards to recognize individual seniors who continue to make a difference in their communities, even well into their golden years. Nominations are now open!
Eligibility
Nominee must be a Canadian citizen or permanent resident
Nominee must be 60 years old or over
Nomination Process
Download the Nomination Form
Complete the form and collect supporting documents
Submit the completed nomination package to Yee Hong Foundation by the deadline
How to Submit
Please submit the completed nomination package (Nomination Form and supporting documents) by email to foundation@yeehong.com.
You may also submit the completed Nomination package by mail or in person to:
Yee Hong Community Wellness Foundation
60 Scottfield Drive
Scarborough, ON M1S 5T7
Nomination Deadline
Monday, September 2, 2019 at 12pm
National Seniors Day Dinner
Join us September 29 at the 2019 National Seniors Day Dinner, and salute our seniors!
Reception starts 5pm
Dinner starts 6pm
VIP Dinner Ticket $100
Dinner Ticket $68
Contact
For more information on sponsorship or tickets, please contact Katherine Hui at katherine.hui@yeehong.com or 416 321 0777 x1812.