Yee Hong Peter K Kwok Hospice Sing For Love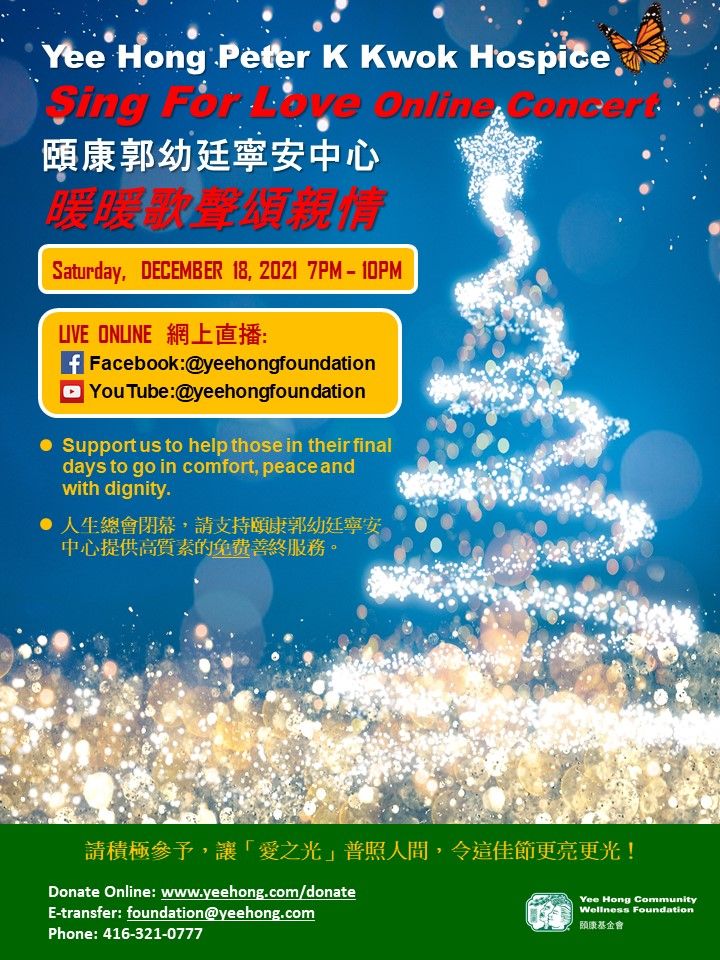 Yee Hong Sing For Love Online Concert
Saturday December 18, 2021 at 7:00pm
YouTube and Facebook
Enquiries & Donation Hotline: 416-321-0777
Donate at www.yeehong.com/donate, please select "Sing For Love" as the Donation Purpose
Introduction
Since operations began in November 2020, Yee Hong Peter K Kwok Hospice has admitted almost 100 residents. It has been an amazing year for us and we are very proud of our achievements. The Sing For Love online show will celebrate the first anniversary of the hospice.
The show will feature a variety of singing performances, including local talents, high-calibre vocalists and musicians, to help raise funds for Yee Hong Peter K Kwok Hospice. The show will be broadcast on Yee Hong's YouTube and Facebook channels on December 18 (Saturday) at 7:00pm.
The hospice receives only partial funding from the Ontario Ministry of Health. We must raise $450,000 each year to ensure smooth operations and to provide all programs and services of the hospice at NO COST to residents and their families.
Please join us to welcome the holiday season with gratitude, compassion, and most of all, with love.