"Caring Heroes" Online Show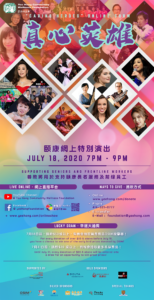 "Caring Heroes" Online Show
Sat July 18, 2020, 7pm-9pm
Youtube, Facebook or Xinflix
Introduction
Long-term care residents are some of the most vulnerable during the pandemic and our frontline workers are doing everything they can to keep them safe and healthy. The Yee Hong team is awesome, and every member of the team is deeply cares for our seniors.
We want to honour all these front-line staff members, from nursing to janitorial and kitchen workers, with the "Caring Heroes" Online Show, to be screened on July 18 (Saturday) from 7 pm to 9 pm through YouTube, Facebook and Xinflix. We also want to acknowledge the support from our PPE donors.
The pandemic affects us all and we need to come together as a community to respond. We are strong alone but stronger together.
The online show will feature performances by Yee Hong supporters and staff to pay tribute to those who have contributed to the fight against the virus in many different meaningful ways, with their love, patience, optimism and beautiful smiles lighting up these darkest times.